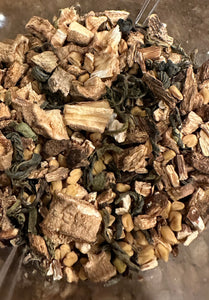 Roots & Herbs is your natural coffee alternative. A nourishing blend of roots, adaptogens and herbs that provide energy, focus, stamina and stress release. 5 oz  30 tsp 
Energy and alertness. 
Boost cognitive function. 
Increased attention and focus.
Improvement in mood.
Enhances memory.
Stress relief. 
Gut healing. 

Reduces inflammation. 

Sustains energy. 

Improves digestion. 

Immune support. 
Organic ingredients: Dandelion Root, Chicory Root, Burdock Root, Maca Root, Fenugreek, Green Tea, Lions Mane, Reishi, Chaga, Ginger Root, Cacao.
Dandelion Root: Prebiotic gut healing, assists adrenal fatigue, hormone balancing. 
Chicory Root: Prebiotic naturally feeds  your gut biome. 
Burdock Root: Reduces anxiety and balances estrogen levels. 

Chaga: Lowers cholesterol, reduces blood pressure, boost melatonin, reduces inflammation, blood sugar regulation. 
Maca Root: Improves cognitive functioning, hormone balancing, lowers stress levels. 
Fenugreek: Hormone balance, improves mental alertness, mood and libido. 
Lions Mane: Boost brain focus. Increased long term memory. 
Reishi: Anti- Fatigue, lowers cortisol levels that contribute to stress. 
Green Tea: Reduces brain fog, increases blood flow  to brain, fatigue, depression. Benefits weight loss,  diabetes, heart disease, lowers cholesterol. 
Reduces body weight, body mass index (BMI), and belly fat in people with type 2 diabetes
For example, two cups of coffee raises homocysteine by 11% in 4 hours. Green tea on the other hand, is associated with a lower risk of cognitive impairment. limit coffee and drink tea, ideally green, instead.
Low - Mild caffeine 
 * Listed are general benefits of the herbs, This is not to diagnose or replace medical treatment. Always be informed if you are pregnant, have allergies to these herbs or taking any medication that should not interact with these herbs.
Disclaimer: This statement has not been evaluated by the FDA. This product is not intended to diagnose, treat, cure, or prevent any disease.