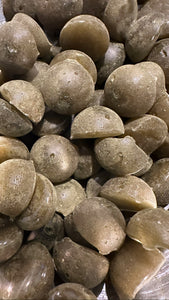 Matcha Drops
Delicious vitamin drops are highly concentrated herbal vitamin treats made with vitamin extracts, supplements and herbs. Enjoy for energy, vitamin boost, sore throat, allergy relief. 
Directions: Enjoy 1-2 per day, allow to dissolve in your mouth. 
Organic Ingredients: Honey, Coconut Sugar, Matcha Tea, Water.  (10) 

Gluten Free Paraben Free Preservative Free Natural Organic  Handcrafted Small Batches
This product is used to temporarily help relieve symptoms such as sore throat, throat irritation, cough, dry mouth, nausea, seasonal allergy throat  and mouth irritation.

Gluten-free, Caffeine Free , Non-GMO, No Dairy Added, No Artificial Colors, No Artificial Flavors
*Listed are general benefits of the herbs, This is not to diagnose or replace medical treatment. Always be informed if you are pregnant, have allergies to these herbs or taking any medication that should not interact with these herbs.
Disclaimer: This statement has not been evaluated by the FDA. This product is not intended to diagnose, treat, cure, or prevent any disease.
* Consult your physician to see if these herbs are suitable for you. If you are pregnant or breast feeding speak with your physician about taking these herbs.