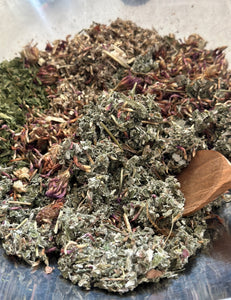 Fertility Support Tea
Organic Ingredients: Red Clover, Red Raspberry Leaf, Mugwort, White Peony, Black Cohosh, Stinging Nettle, Ceylon Cinnamon, Parsley.
Handcrafted -Natural -Organic -Non-GMO
Gluten Free -Soy Free -Vegan
Drink daily 8-16 oz after your menstrual, during the first week of ovulation. 
* Recommended with Reproductive System Support Tincture. 
This is your natural organic holistic herbal tea that will assist and support your fertility health. 8 ox 
uterine health
promote ovulation
estrogen balance
 hormones
endometriosis
ovarian cysts
 pcos
progesterone
cervical mucus
libido
menstrual absence or irregular menstrual, heavy menstrual, painful menstrual.
stress that can affect your fertility wellness.
Handcrafted -Natural -Organic -Non-GMO
Gluten Free -Soy Free -Vegan
* Listed are general benefits of the herbs, This is not to diagnose or replace medical treatment. Always be informed if you are pregnant, have allergies to these herbs or taking any medication that should not interact with these herbs.
Disclaimer: This statement has not been evaluated by the FDA. This product is not intended to diagnose, treat, cure, or prevent any disease.
* Consult your physician to see if these herbs are suitable for you. If you are pregnant or breast feeding speak with your physician about taking these herbs.