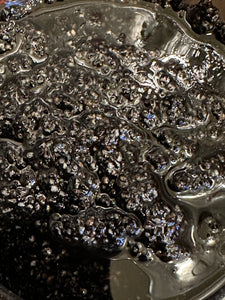 Black Seed Oil & Black Seed Castor Oil 
This is your pure natural organic handcrafted Nigella Sativa ( Black Seed Oil ) and Jamaican Black Castor Oil infused. 6-8 weeks  1 oz 
Gluten Free Paraben Free Preservative Free Natural Organic *Vegan Handcrafted Small Batches
Pain-Killing
Anti-Bacterial
Anti-Inflammatory
Anti-Ulcer
Anti-Cholinergic
Antoilertensive
Antispasmodic
Antiviral
Bronchodilator
Anti-Diabetic
Liver Protecting
For your skin:
Purifying, antiseptic and healing, it effectively fights against eczema and skin fungus.
Antioxidant and very nourishing, it strengthens skin and acts as an anti-aging treatment.
Heals inflammed skin, rashes, bug bites.
For your hair: 
Fight against dandruff.
Nourishes dry and brittle hair.
Promote hair growth on thinning hairline and spots.
For your health and wellness: 
Anti-inflammatory, it is also used to relieve the joints.
Orally, it strengthens the immune system and helps fight against allergies and asthma.
Castor oil is a powerful laxative. It is recognized as safe by the U.S. Food and Drug Administration as a way to relieve temporary constipation, but it isn't suitable for long-term treatment. Use castor oil in small amounts and be sure to consult with your doctor to make sure it's safe for you.
 * Listed are general benefits of the herbs, This is not to diagnose or replace medical treatment. Always be informed if you are pregnant, have allergies to these herbs or taking any medication that should not interact with these herbs.
Disclaimer: This statement has not been evaluated by the FDA. This product is not intended to diagnose, treat, cure, or prevent any disease.