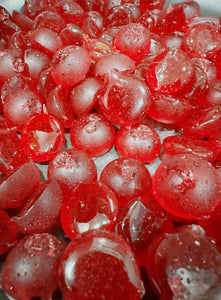 Apple Cider Vinegar Drops  sweet, delicious lightly tangy drops made with THH fermented apple cider vinegar for a boost of energy, immune support, cellular support for your liver, kidneys, heart, lungs and overall health support.
Organic Ingredients: Local Honey, Beetroot, Beet Sugar, Fermented Apple Cider Vinegar, Vitamin C, Arrowroot Coating. 10 Drops
Organic Gluten Free Non-GMO Non Dairy Preservative Free No Artificial Colors No Artificial Flavors Locally Sourced Handcrafted Small Batches 
Enjoy 1-2 daily for energy, sore throat relief, allergy relief, digestion, ease symptoms of cold, flu, virus, cough and respiratory relief. Do not swallow!!! Hard candy texture!
Soothe sore throat.

Sinus and allergy relief.

Soothe digestion.

Ease symptoms of cold, flu, virus, cough and respiratory relief.

Energy

Immune support.
*Listed are general benefits of the herbs, This is not to diagnose or replace medical treatment. Always be informed if you are pregnant, have allergies to these herbs or taking any medication that should not interact with these herbs.

Disclaimer: This statement has not been evaluated by the FDA. This product is not intended to diagnose, treat, cure, or prevent any disease.
* Consult your physician to see if these herbs are suitable for you. If you are pregnant or breast feeding speak with your physician about taking these herbs.